Early Childhood Screening
All screenings are held at the Washington Learning Center, 910 14th Street North.
Early Childhood Screening
Early Childhood Screening
Minnesota law states that every child entering kindergarten in a public school must have had a developmental screening. In our community, the non-public schools also encourage participation in Early Childhood Screening. If a child is screened in another community the results from the screening must be submitted to the ECFE Office prior to school entrance. Screening is also required for all children enrolled in Eagles Preschool Programs, Head Start, and those receiving Early Learning Scholarships from the State of Minnesota.
2023-2024 Early Childhood Screening Dates
Wednesday & Thursday, September 6 & 7
Wednesday, September 13
Wednesday, October 11
Wednesday, November 8
Wednesday, December 6
Wednesday, January 10
Wednesday, February 7
Wednesday, Thursday, March 13 & 14 (½ day)
Wednesday, March 20
All screenings are held at the Washington Learning Center, 910 14th Street North.
Early Childhood Screening invitations are mailed one month prior to each screening.
Appointments can be made online using SignUp Genius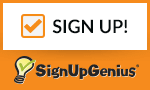 or use this link: tinyurl.com/ECFEScreening
I just received the letter for my three year old to attend Early Childhood Screening, why should we attend so early?
The goal of early childhood screening is to catch and address concerns as early as possible before kindergarten entrance. Our goal is for children to attend screening between the ages of three and four.
Is Early Childhood Screening required for entrance into preschool?
New Ulm Public School Preschools (Eagles 3 and Eagles 4) and Head Start are the only preschools that require screening within 30 days of the start of the school year.
Shouldn't I wait to send my child to Early Childhood Screening until they are older so he/she will do better?
No. Each child is scored according to their age.
Why shouldn't I wait until right before kindergarten to have my child screened so I will know what to work on over the summer?
Lots of reasons. First, if concerns are detected, there may not time before kindergarten to address the concerns or get him/her caught up. Second, we have had parents wait until the March screening before kindergarten to have their child screened only to have their child get sick or to be out of town during our screening days.
Does my child have to participate in Early Childhood Screening?
No. Those who Conscientiously Object to screening need to stop by the ECFE Office to sign a form. They are then exempt from screening.
How long does Early Childhood Screening take?
We ask parents to plan on 1 hour.
Can I drop my child off at screening? What if I have to run and pick a child up from school?
Parents must stay at screening with their child. If the parent must leave, they have to take their child with them. During screening the parents meet with Family Facilitators, the school nurse, and receive information on their child's test scores.
What if my child won't cooperate at screening?
Many children come to screening who are shy or apprehensive. We will first give the child a chance to "warm up" to the atmosphere by letting them play in the waiting area. If your child still will not cooperate we will talk to the parent about options.
We first ask if the parent has any concerns about their child's growth, development, hearing, vision, or behaviors.
If the child is a three-year-old, and the parent has no concerns, the child can attend a future screening.
If the parent has concerns or if the child is almost kindergarten age, we can immediately refer their child to the Interagency Early Intervention Committee. This committee will then contact the parent to do a 1 on 1 screening.
What happens if my child does not pass the developmental test or if my child has speech concerns?
A referral is made to the Brown County Interagency Early Intervention Committee. This committee will look at the referral and determine who should contact the family to follow up on the concerns. ISD 88's Early Childhood Special Eduction Teacher or a Speech Pathologist can then talk to the parent, do additional testing with the child, or give suggestions for activities to work on at home.